Your benefits
Shared Office in Zurich
Sharing is caring - with advantage factor and full flexibility
For all those who value a prestigious, fully and high-quality equipped office in a prime location, but want to remain cost-oriented and flexible, office sharing or shared offices in Zurich is the perfect solution. Especially for start-ups, founders & freelancers, for whom a strong appearance from the start is important. Or for all those who want to get out of the home office now and then. That's exactly what you'll find at no less than 3 Satellite Office locations in Switzerland. Just move in, without waiting, without investment in buying furniture, but and with maximum flexibility. And an award-winning room concept is included - including first-class services at 5-star level.
The Satellite Office Membership card also gives you access not only to all Satellite Office workspaces, but also to a very fine network in Germany and Switzerland.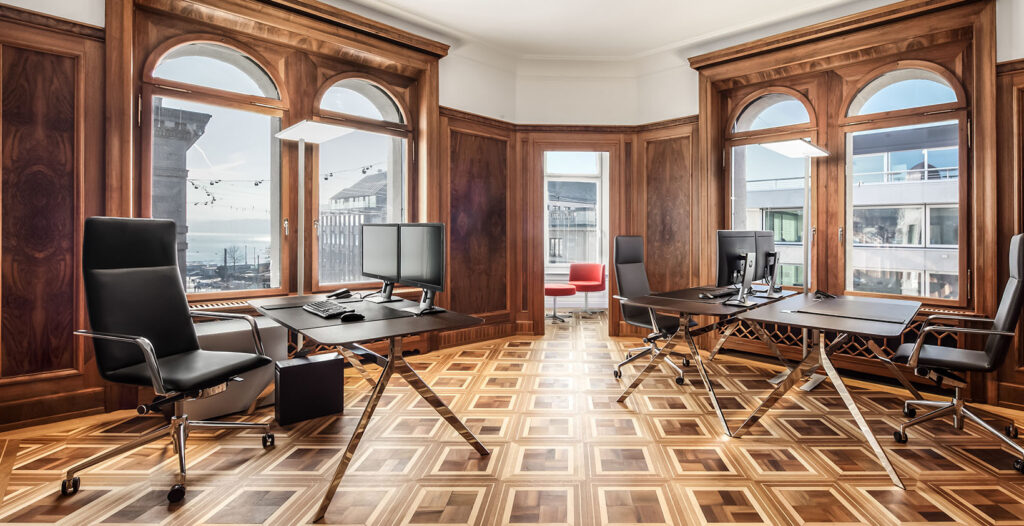 Satellite Office Zürich Bahnhofstrasse
Bahnhofstrasse 10 / Eingang Börsenstrasse 18
CH - 8001 Zürich
AT SATELLITE OFFICE IT IS EFFECTIVE.
We open you a successful, a shared office Zurich.
Satellite Office is seductive: high culture, subculture, pure life. Working in a concentrated manner can be a challenge. That's why we create a combination of efficiency and networking, of calm and inspiration. Set in a luxurious interior and magnificent buildings. Here you will find space for your focus - at the best of the metropolises. Our shared offices in Zurich are never staffed with more than 6 workplaces, the booking times extremely flexible over the period of a few days or months. Office Sharing at Satellite Office connects.
Shared Office
Bahnhofstr. 10
First-class, deliverable address for your company headquarters for registration in the commercial register
Unlimited mail and parcel acceptance
Your company sign in the foyer
Own local phone number and message in your company name
Local fax number and service with UMS technology
Internet flat rate / free WiFi
5 / 10 or 20 days use of own, fully equipped workplace in a partial office
24/7 Access
Own locker for depositing your personal documents
Master Membership
Access to the Open Space (fair use)
"Gruezi. If you have any questions about our Satellite Office in Zurich, please do not hesitate to contact me. I look forward to your call."
PLEASE GET IN CONTACT WITH US